5G Infrastructure Testing
5G is opening new possibilities for backhaul communication with small cells, radio units and repeaters to improve coverage, capacity, and connectivity.
What are Small Cells?
Small cells are low cost, low power radio access units deployed to complement the macro base station to ensure uniform user experience. With the purpose to bridge coverage gaps & meet capacity demands at low capital expenditure, small cells are designed to be compact and enable smooth deployment in indoor and outdoor settings. Available in myriad different shapes and sizes, small cells are broadly classified as Femto, Pico, or Micro based on the coverage range, power level, configuration & deployment model.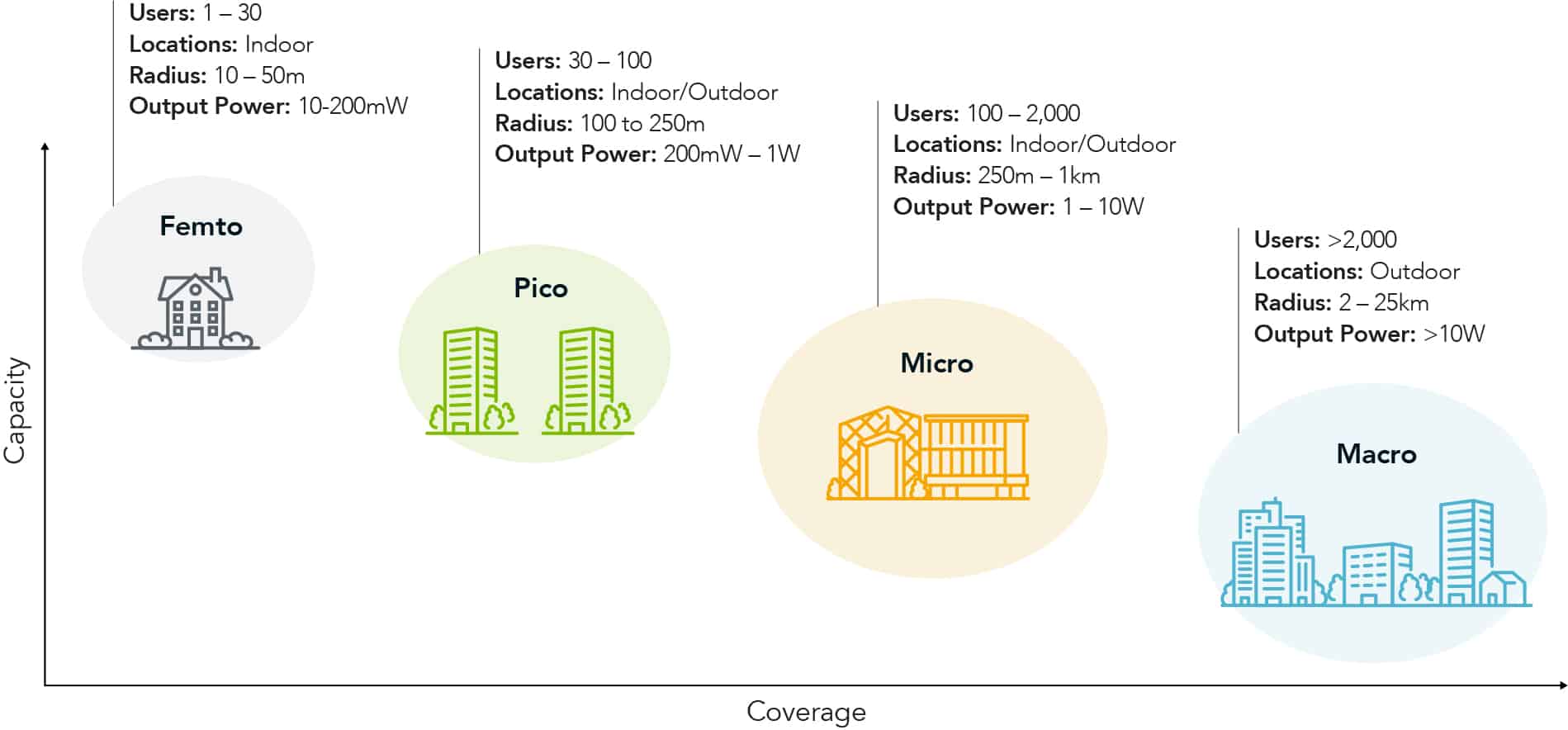 The Rising Momentum of Small Cells for 5G
With the advent of 5G, small cells will play a critical role in enabling 5G deployments in enterprise networks, densification of urban cities and rural areas.
To realize the full potential of data hungry and latency sensitive use cases like seamless video calling, autonomous cars, remote healthcare, smart city, industrial internet of things (IIOT), network operators will need to use 5G mid band or mmWave frequencies that offer expansive bandwidths but are challenged by signal attenuation and propagation loss. 5G small cells supplement the limitation of radio propagation distance and augment the macro cell's edge data capacity & speed with better economics in deployment cost.
5G Infrastructure Architecture
Fueled by the need to enable mission critical lower latency applications, multi-access edge computing (MEC), better resource management, the industry has been pushing for disaggregated Radio Access Network (RAN) architecture for small cell deployment, which allows 5G RAN (layer1, layer2, layer3) to be horizontally split between virtualized centralized unit (CU), distributed unit (DU) and an unvirtualized remote small cell radio unit (RU).
The purpose of network function split is to reduce cost, optimize deployment based on the user density (enterprise/urban/rural), enable load balancing, ensure seamless mobility, administer interference, perform edge-centric baseband processing per sector of the RU to better address the needs of non-real/real time application uses cases.
The third generation partnership project (3GPP) has identified eight different options for functional split, of which option-6 is being considered useful by small cell forum (SCF) for low cost, low capacity deployments and option 7.2 is being considered by Open RAN (O-RAN) alliance for high capacity deployments.

Benefits of 5G Small Cell
Improved wireless density and coverage
Multiple small cells can be connected to meet the capacity and coverage demands of private or public networks


Increased throughput
Use of dense modulation scheme like 256QAM, wider channel bandwidths in 5G, together with antenna array gain and spatial multiplexing provide increased data rates

Reduced cost per bit
Low-cost infrastructure paired with wider data pipes, aggregation of up to 16 carriers, massive MIMO allows more user density per cell reducing the overall cost per bit
Enhanced end device battery life
Short distance between the radio unit and cellular handset allows devices to transmit at lower power levels, thus substantially reducing interference and improving battery life

Flexible deployment options
Small cells can be easily deployed in licensed, unlicensed, and shared spectrum
Testing 5G Infrastructures
To ensure flexibility in deployment, 5G small cells are designed to support a range of spectrum and technologies making RF and antenna performance validation crucial.
Multi-Band Testing


Small cells are designed to support multiple technologies and bands ranging from LTE, frequency range 1 (FR1), NR-U (410 MHz – 7.125GHz) to frequency range -2 (FR2) (24.25GHz – 52.6GHz), requiring verification of the entire RF front end chain. 
Wider Bandwidth Verification


5G NR supports single carrier bandwidths as large as 400MHz and non-contiguous and contiguous aggregated bandwidths as high as 1200MHz. This necessitates ensuring there is low leakage and adequate isolation between different channels.
Multiple-input/Multiple-output (MIMO) and Antenna Performance Validation

Small cells are being designed to support higher order MIMO streams along with antenna sharing between multiple bands and technologies. Antenna gain and pattern measurements along with error Vector Magnitude (EVM) are some important measurements to determine modulation accuracy and uncover potential issues.
Receiver Performance Measurements


Single antenna small cells must have adequate isolation between transmitter and receiver chains to minimize any transmitter noise or receiver desensitization.  Measurements like adjacent channel selectivity (ACS) and in-band blocking can be strong indicators of receiver performance in presence of out-of-band signals close to bands of interest.
Transmit Power Levels


The very nature of small cells is to be power efficient, however, output powers can drive power amplifiers to saturation, causing non-linearity leading to out of band distortions; in which case, maximum transmit output power, adjacent channel leakage ratio (ACLR), spectrum emission mask (SEM) can be some reliable test metrics.
Single box with superior EVM performance for UE & small cell testing
Powered with outstanding EVM performance of -48dB on sub-6GHz and -42dB on mmWave frequencies, LitePoint's 5G solutions are fully integrated with signal generation and analysis in a 2U form factor. Includes web-based Graphical User Interface (GUI) for real-time RF parametric analysis.
Turnkey automation tool with single test flow for multiple measurements
Optimized for manufacturing, LitePoint's IQfact5G automation tool is designed for calibration & verification of 5G NR FR1 & FR2 capable devices.  Includes DUT, tester, switch & chamber control with a single test flow for multiple Tx & Rx measurements
Scalable test economics from R&D to production with multi-DUT efficiencies
Direct connect, calibrated, multi-RF port architecture allows scalability from R&D to production, facilitating easy measurement correlation and lowering cost of test with unmatched multi-DUT efficiencies