An Introduction to Wi-Fi 6E Spectrum in the 6 GHz band – Wi-Fi's First Unlicensed Spectrum Boost in 20 Years
By Eve Danel
October 20, 2020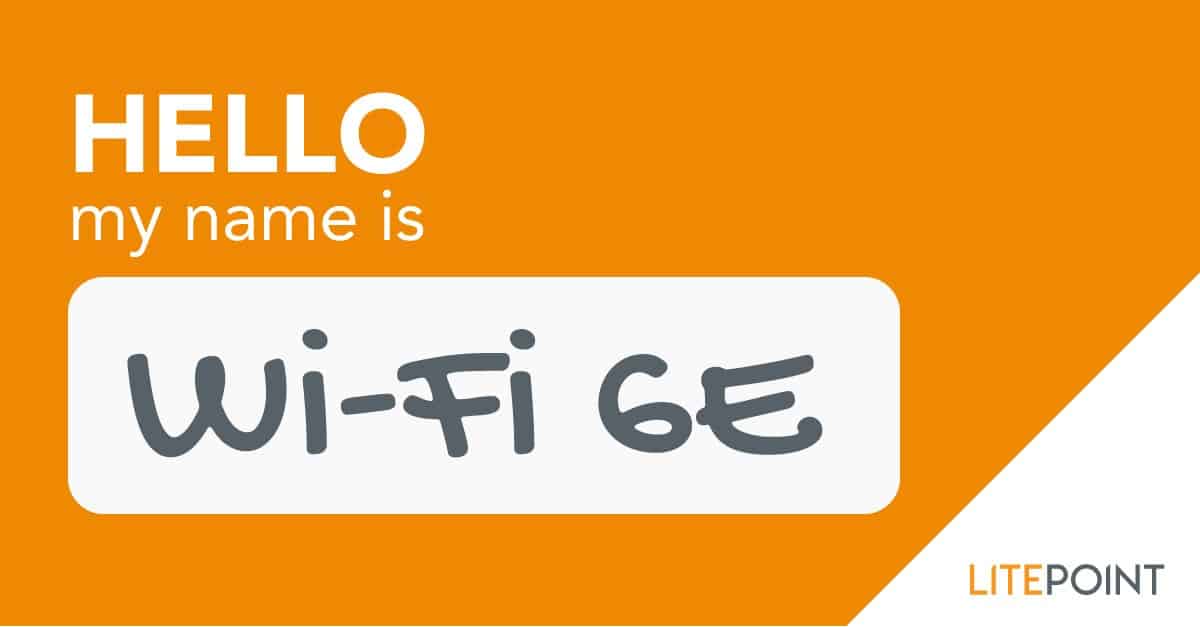 LitePoint's Eve Danel has developed this three-part blog series on Wi-Fi 6E and testing challenges. Throughout this series of blog posts, you'll learn the basics of operating rules for Wi-Fi 6E in the 6 GHz band, the challenges when validating Wi-Fi 6E designs and what testing solutions LitePoint has available for Wi-Fi 6E.
For all of the uncertainty that 2020 has brought with it, this year marks an exciting change for the wireless industry. On April 23, the FCC voted unanimously to open the 6 GHz band for Wi-Fi use. Other regulatory authorities in the UK, Brazil, Korea and the E.U have either approved or are in the process of approving WLAN operation in the 6 GHz band, building a worldwide momentum for unlicensed spectrum. Prior to this announcement, Wi-Fi had not had a spectrum addition in nearly 20 years. The Wi-Fi 6E spectrum is a significant milestone for the wireless industry and is going to revolutionize the Wi-Fi user experience.
Some Quick Facts on Wi-Fi 6E
The 6 GHz band represents 1200 MHz of spectrum that will be available from 5.925 GHz to 7.125 GHz. Keeping in mind that the 2.4 GHz band only had 11 channels, with the new spectrum, Wi-Fi will have access to 59 20-MHz channels, 29 40-MHz channels, 14 80-MHz channels and 7 160-MHz channels. This not only represents a lot of channels, but also a lot of wide channels that will unlock the highest Wi-Fi data speeds.
Because the 802.11ax standard (Wi-Fi 6) also operates in the 2.4 GHz and 5 GHz bands, Wi-Fi in the 6 GHz band will be identified by the name of Wi-Fi 6E. This naming was chosen by the Wi-Fi Alliance to avoid confusion for 802.11ax devices that also support 6 GHz. The "6" represents the sixth generation of Wi-Fi and the "E" represents extended. The Wi-Fi Alliance expects to have a certification program to ensure interoperability and compliance for devices for Wi-Fi 6E by early 2021.
Why the Need for More Spectrum?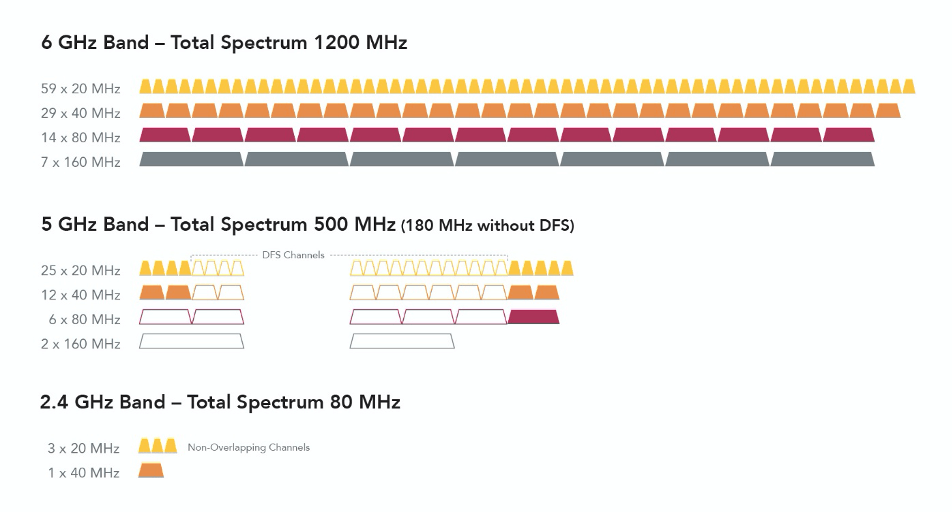 For decades, Wi-Fi had done a lot with a very little amount of spectrum. Historically, Wi-Fi had only 80 MHz of spectrum in the 2.4 GHz band and 500 MHz in the 5 GHz band. Of that 500 MHz, dynamic frequency selection (DFS) channels are often not available or not deployed.
But as the most popular wireless connectivity technology, Wi-Fi became a victim of its own success. With so few channels available, all of the channels ended up suffering from congestion, with too many access points (APs) and clients sharing the same channel, especially in dense areas like airports and convention centers where massive numbers of users want to connect.
The restricted DFS channels left very limited contiguous spectrum. This made it difficult to find or enable 80 MHz or 160 MHz channels, yet the highest Wi-Fi data speeds can only be achieved with these wide channels. This meant that even though a device's datasheet could say multi-gig speed, it was practically impossible to achieve that speed in most locations, until now.
With the 59 20-MHz channels, Wi-Fi 6E will immediately remove congestion issues. At least for the foreseeable future, there will always be at least one 20 MHz channel available without congestion. Thanks to the contiguous spectrum and the 14 80-MHz channels or the 7 160-MHz channels to choose from, a user will be able to find a channel available free of congestion. This enables the technology to deliver the highest speeds.
Incumbent Users of U-NII 5, U-NII 6, U-NII 7 and U-NII 8 Band
The FCC published a Report on Order establishing the rules that unlicensed devices, like Wi-Fi devices, will have to obey in order to operate in the 6 GHz band and coexist with existing incumbent services. To understand these rules, let's take a look at the incumbent users of the band.
There are tens of thousands of deployed incumbents in this band. The unlicensed national information infrastructure (U-NII) 5 and U-NII 7 bands are primarily used for fixed services, like satellite link communications to geostationary satellites. And it's also used by point-to-point microwave links deployed by carriers for wireless backhaul. These links are also deployed for critical services like utilities, as well as public safety and emergency services. U-NII 6 and U-NII 8 bands are primary used for mobile services, for example mobile trucks used by the news crews to relay the signal back to the TV studio.
All of the incumbents represent critical users, therefore the rules of operation defined by the FCC for unlicensed devices are designed to ensure that these devices would not cause harmful interference to the incumbents.
Several classes of APs are being defined to adapt to the U-NII bands and conditions where they will be operating. The standard power (SP) AP and the low power indoor (LPI) AP and very low power (VLP) AP.
Standard Power (SP) Access Points in the 6 GHz Band with AFC
Standard power APs can operate in the U-NII 5 and U-NII 7 bands indoors or outdoors at full power, but they have to operate under the control of an automated frequency coordination (AFC) system. AFC is a new concept for Wi-Fi and requires the AP to connect to a database maintained by an AFC operator of the frequencies used by the incumbent services in the geographical location of the AP. The AFC system will then assign a list of frequencies to the AP, based on where it can operate safely without interfering with any incumbent fixed microwave receiver.
Standard power APs can operate with a maximum effective isotropic radiated power (EIRP) of 36 dBm or maximum spectrum density of 23 dBm/MHz. This power class is defined in such a way that the 20 MHz channels have the highest power spectral density.
Client devices connected to a standard power AP operate 6 dB lower. Client devices don't need the AFC system since they have to follow the AP that they're connected to and the AP itself is operating under AFC.
Low Power Indoor (LPI) Access Points in the 6 GHz Band

Low power APs are able to operate across the entire 6 GHz band (U-NII 5, U-NII 6, U-NII 7 and U-NII 8) for indoor operation only, and without the need of AFC. The decision by the FCC to allow low power APs to operate across the entire 6 GHz band is important because it will speed up the deployment of the devices that don't require the complexity of the AFC implementation.
LPI APs will have a maximum allowed EIRP of 30 dBm or 5 dBm/MHz PSD. Unlike standard power APs, the power rules for the low power APs are defined to incentivize the wider channel deployments, where the highest power is being achieved. Client devices connected to an LPI AP operate 6 dB lower.
To ensure that indoor APs remain indoors, these devices cannot have weather resistant enclosures, cannot operate on battery power, they will have integrated antennas and their design should prevent the installation of external antennas.
Very Low Power (VLP) Access Points in the 6 GHz Band
The very low power AP class is designed to operate indoors or outdoors in short range mobile applications on the entire 6 GHz band without AFC requirements, the tradeoff being that these devices can operate only at very low power of 14 dBm EIRP or -8 dBm/MHz PSD. At the time of this writing the VLP class is part of the FCC's Further Notice of Proposed Rule Making (FNPRM).
Wi-Fi 6E is an exciting new standard that will bring major feature upgrades to wireless devices. In order to achieve success, Wi-Fi 6E devices will need to complete test verification and performance validation to ensure their operation in the 6 GHz band.
In the next post, we'll explore some of the challenges in building Wi-Fi 6E devices. In the meantime, please visit the replay of my webinar on this topic.