Product Announcements
Introducing the IQxstream-5G
The IQxstream-5G is the industry's first sub-6GHz 5G single-box tester with 200 MHz of bandwidth supporting the 3GPP NR 5G specification evolution. 200 MHz of continuous bandwidth allows for faster throughput when performing 5G NR carrier aggregation signal analysis. Plus, the IQxstream-5G can be software-upgraded to support other wireless technologies, including Wi-Fi, Bluetooth®, Zigbee, NB-IoT and popular navigational technologies. As 3GPP NR standards evolve and new sub-6 GHz spectrum allocations for 5G are defined worldwide, the IQxstream-5G provides you a future-proof test solution.To learn more, please go to the IQxstream-5G product page.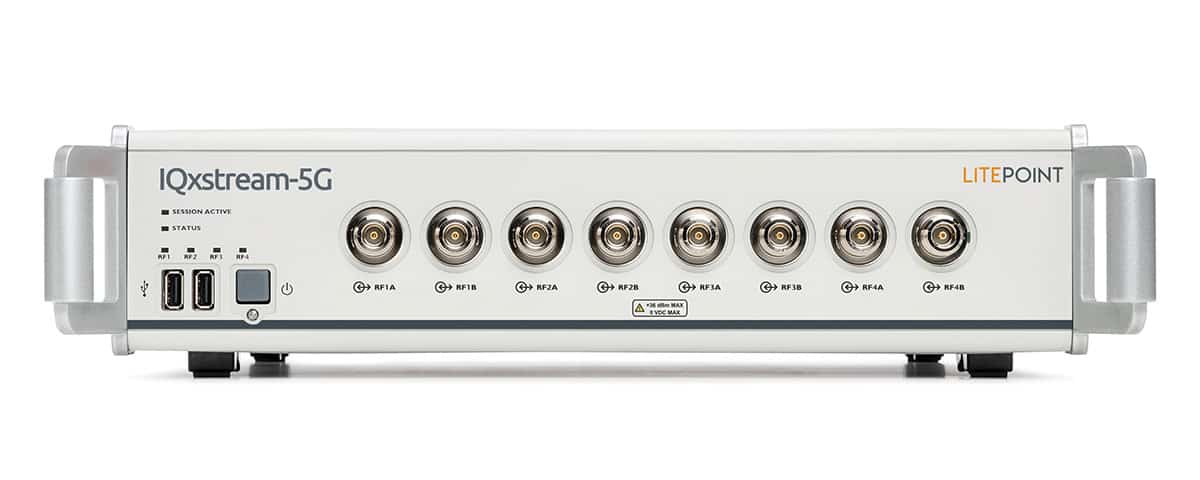 5G mmWave Total Test Solution
LitePoint's IQgig-5G, with over-the-air (OTA) chamber and required mmWave accessory kits, is your one-stop total solution for testing 5G at FR2 mmWave bands.
Our OTA chamber is a simple, affordable solution for direct far field distance test of up to 60 cm; it is ideal for mobile pocket routers and smartphones beamforming verification. Capable of testing DUTs under various temperature conditions, the chamber is well suited to DUT performance characterization. The chamber contains a 2-axis DUT positioner, which can be controlled directly by the IQgig-5G.
LitePoint's total solution accessory kits include various types of horn antennas and lengths of cables as well as a calibration kit.
For a brochure and additional information, please visit the IQgig-5G product page.
---
Resources

Stay on top of the latest trends and knowledge sharing with this curated selection of LitePoint thought leadership. You can also explore additional Videos & Webcasts and Research & Commentary from LitePoint experts to learn more about wireless device testing and important industry topics.
Wi-Fi connectivity – due to the rise of the smartphone – is important to our daily lives. This article discusses common indicators for assessing Wi-Fi performance, causes of certain issues, and how mobile phone manufacturers can avoid quality issues by testing.
Examining Common Smartphone Wi-Fi Quality Issues & How Wi-Fi Performance Testing Can Help
---
Events

Mark your calendar! We invite you to meet LitePoint at one of the industry events that we participate in each year. For more information on where and when you can connect with LitePoint, as well as on-demand videos from past webcasts, please visit our Events page.
MWC Barcelona 2019
This coming February, we will be showcasing our latest innovations—including our newest solutions for testing and ensuring the performance of cutting-edge wireless products.
Learn more about MWC Barcelona 2019
BIG 5G Event 2019
LitePoint will be participating in a panel discussion. If you want to be prepared for tomorrow's hyper-connected world you will join us in May at this 5G-focused event.
Learn more about BIG 5G Event
---