Wi-Fi 6E is revolutionizing Wi-Fi.
LitePoint is leading the way in Wi-Fi 6E Testing.
Working closely with major chipset manufacturers and engaging them from the earliest stages of chipset development, LitePoint's solution is fully integrated for Wi-Fi 6 and Wi-Fi 6E testing in the 2.4 GHz, 5 GHz and 6 GHz bands.
What is Wi-Fi 6E?
Wi-Fi 6E is the new name given to Wi-Fi 6 – Extended in the 6 GHz band.
Named by the Wi-Fi Alliance to distinguish IEEE 802.11ax devices capable of operating in the 6 GHz unlicensed band.
Regulators around the world, like the FCC in the United States, and the E.U. have announced their intention to open up the
6 GHz band for unlicensed use in 2020.
What are the benefits of WiFi 6E?
More Channels – Removes Congestion
The 6 GHz band adds up to 59 new 20-MHz channels. This will immediately alleviate congestion as Wi-Fi 6E devices will be able to operate in channels with no co-channel (CCI) or adjacent channel interference (ACI) even in dense environments like stadiums or airports.
Wider Channels – Enables Faster Speed
With 14 new 80-MHz and 7 new 160-MHz channels, the 6 GHz band provides enough contiguous spectrum to allow deployments of wide channels, thus enabling the fastest Wi-Fi throughput.
No Legacy Devices – Reduces Latency
6 GHz band is reserved to 802.11ax devices. Allowing only fast and OFDMA capable devices, and therefore decreasing network latency.
How do you test Wi-Fi 6E devices?
In the new Wi-Fi 6E era, it's critical to ensure that the next generation of Wi-Fi products
meet the highest standards for performance and interoperability.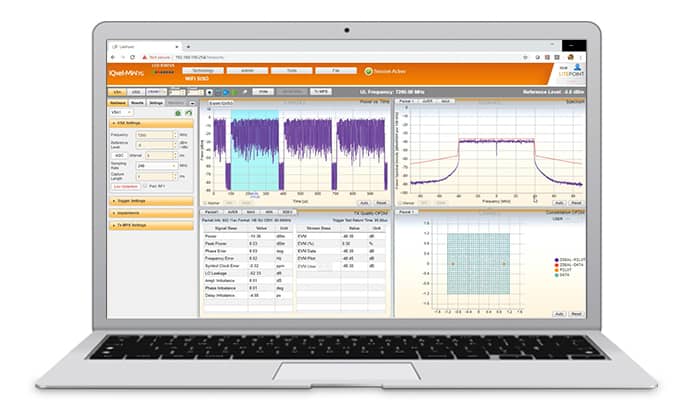 Extended frequency range
Wi-Fi 6E devices will support the entire frequency range from 5.925 MHz to 7.125 MHz. Most Wi-Fi 6E devices will support dual-band 5 + 6 GHz and often tri-band 2.4 + 5 + 6 GHz. Requiring testing on all the frequency bands.
1024 QAM
Wi-Fi 6 uses 1024-QAM modulation and requires transmitters to perform with significantly better accuracy (lower constellation error) than was required from previous generations. The 802.11ax standard specifies -35 dB EVM for the highest data rate, compared to the -32 dB EVM requirement in 802.11ac.
Wider Channels
The 6 GHz band enables wider channels and Wi-Fi 6E will commonly be deployed with 80-MHz and 160-MHz channels, requiring optimized device's performance.
OFDMA
Introduced in the 802.11ax standard, OFDMA expands the capacity of OFDM by allocating the channel bandwidth to multiple users simultaneously. Wi-Fi 6E devices will be able to make full use of OFDMA transmission because no OFDM-legacy devices are allowed on the 6 GHz band.
IQxel-MW 7G
First Fully Integrated Tester for Wi-Fi 6 and Wi-Fi 6E in the 6 GHz Band. LitePoint has been working closely with major chipset manufacturers and engaging them from the earliest stages of chipset development, the IQxel-MW 7G is tailored to provide cost-effective, seamless transition from the lab to production.
Learn more about IQxel-MW 7G
IQfact+
With Integrated DUT and tester control IQfact+™ application software provides quick and reliable results for both calibration and verification. LitePoint works with the leading Wi-Fi chip manufacturers such to provide a turnkey solution that integrates optimized test.
Learn more about IQfact+
Wi-Fi Alliance Member
As a member of the Wi-Fi Alliance, LitePoint is committed to ensuring fast Wi-Fi 6 and Wi-Fi 6E adoption by contributing to standards and certification programs to foster interoperability.
Learn more about Wi-Fi Alliance